Happy Faces Childrens Charity
There are many way to help the less fortunate than ourselves, as a toymaker I choose to make a few toys a year and give them to Ray.

The photo is Ray is holding a fund raising snowman money box for donations to the Happy Faces Christmas party he organises each year. I cut the wood and glued it together and then Ray's daughter painted it –did'ent she do well!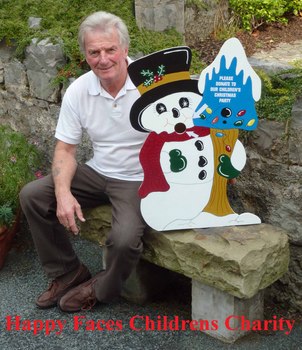 The aim of HAPPY FACES is to raise funds in the North Wales area, with the sole purpose of spending all the money collected on Sick, Disabled and Disadvantaged Children who live in the North Wales Area.

At Christmas they put on huge parties for the children who are entertained and get to meet Father Christmas. Each child receive a Present, refreshments and dance at our disco's.

They have no head office in London, they are based in North Wales, raise there money in North Wales and spend out the money raised on the children of North Wales.

None of our committee menbers receive payment, they are all volunteers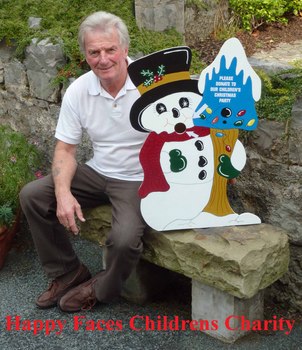 Each year Happy Faces raises enough money to have runners run in the London Marathon. This year they had 11 Runners.

The cost of entering comes out of each runners collection so you see your donations do go a long way for the children of the Happy Faces Charity.
HAPPY FACES is a children's charity (Registered Charity Number 1101620) that solely relies on the kindness and generosity of the public and fund
raising events to keep it going.

Donations are greatly welcomed, if you would like to make a donation or join a donation list we would be most gratful.

Happy Faces needs your help.
Thank you.