Llyn Tourism Information
KEY INFORMATION

The Welsh Language
Welsh is one of the oldest surviving languages in Europe and is still very much in use, especially on the Llyn Peninsula where in Porthmadog 74% of the inhabitants speak it. As all Welsh speakers are bilingual you are assured of a warm welcome wherever you go, but when you are here, why not give Welsh a go!

Useful phrases & words and importantly their pronunciation;

English Welsh Pronunciation
Good Morning Bore da Boh-reh Dah
Good Afternoon Prynhawn da Pruh-noun Dah
Welcome Croeso Croy-sawh
Thank you Diolch Dee-ohlch
No thank you Dim diolch Dim Dee-olch
Goodbye Hwyl Hoo-eel
Cheers / Good Health Iechyd Da Yeh-cheed Dah
Good Night Nos da Nohs Dah

Tourist Information Centres (TIC's)
There are three tourist information points which can provide additional information to the Llyn visitor on activities, attractions and events as well as advice on places to stay and book accommodation.

Abersoch Tourist Information Office – 01758 712929
Porthmadog Tourist Information Centre – 01766 512981
Pwllheli Tourist Information Centre – 01758 613000

Weather
For up to date information on the weather and tides, contact the following;

Met Office Weatherline: 0870 90000100
Marine Weather: 09068 500460

Tide
It is important that visitors to the Llyn participating in any watersports or just visiting the beach make themselves aware of the tides as the flow and depth of water can change greatly from one location to the next. Copies of Laver's Liverpool & Irish Sea Tide Table for 2008 are available from TIC's, chandleries and most local shops for example newsagents, petrol stations, supermarkets etc and cover key areas on the Llyn or a seven day forecast can be downloaded from
website link.




Public Internet Access
Mobile phone and internet connection across the Llyn can vary but the following libraries have public access terminals which provide free access to the internet. Call to check opening times:

Criccieth 01766 522256
Nefyn 01758 720873
Porthmadog 01766 514091
Pwllheli 01758 612089

Travel Information
The Llyn Peninsula is easy to get round and about. There is a good network of bus routes servicing the area. For details on times and routes, contact Traveline on 0871 200 2233 or visit website link.

Take it Home with You
Rubbish in the sea is a serious problem with some 20,000 tonnes a year entering the North Sea alone. Worldwide, more than one million birds and 100,000 marine animals die each year from becoming entangled in or ingesting litter. So please help by making sure you take your rubbish away with you at the end of the day.

Man's Best Friend
With fantastic places to walk your dog, please be mindful of wildlife and other people, keeping your dog under control at all times. Remember that it is an offence not to clean up after your dog in designated areas. Dogs are also banned from certain areas, in particular from 1 May to 30 September. Signs will be located at all these sites with maps indicating the ban area which must be obeyed.

Should your pet go missing, contact the dog warden on 01286 673113.

There is a 24 hour Vet emergency service at Milfeddygon Deufor in Y Ffor, Pwllheli on 01766 810277.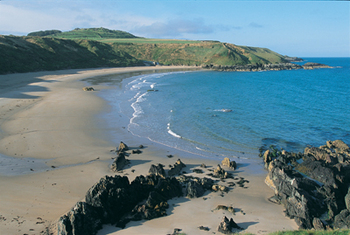 Tourist Information Centres (TIC's) There are three tourist information points which can provide additional information to the Llŷn visitor on activities, attractions and events as well as advice on places to stay and book accommodation. Abersoch Tourist Information Office - 01758 712929 Porthmadog Tourist Information Centre - 01766 512981 Pwllheli Tourist Information Centre - 01758 613000