Anglesey Textile Art
Tariff :
Address : Bonc, Dothan, ty Croes, Isle of Anglesey
Grading :
Accommodation Type :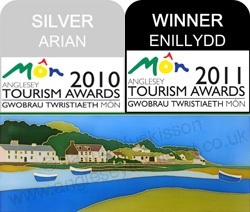 Jayne studied Fashion/Textile Design BA(Hons), graduating in 1987. She worked in the fashion industry before specialising in textiles. Jayne now enjoys the exploration of mixed media and textiles, particularly appliqué and stitched collage, although painting on silk is her primary specialisation.
Jayne has 15 years experience of silk painting and she has now developed her own very unique style. Her work is bold and vibrant and captures the very
essence of the Anglesey landscape with a contemporary twist.